ENJOY SIVALAI CLUBHOUSE - OZONE SWIMMING POOL
Enjoy our biggest super-sized Swimming Pool with 'O-zone' non-chemical filtering system is perfect for lounging around on those hot Bangkok days - One great way for keeping yourself in shape! So if it's sun-worshiping, Olympic work-outs or just a quick paddle after a long day - our pool is the place to hang out.
Swimming count as one of the most healthy & fun activity, benefit of healthiness from swimming is definitely worth the effort. Special course for new swimmers* Provided by Professional Teachers
 สระว่ายน้ำระบบโอโซน
ก๊าซโอโซน คือ ก๊าซธรรมชาติที่มีความสามารถในการทำปฏิกิริยาออกซิเดชั่นเพื่อฆ่าเชื้อโรค และทำลายสารพิษปนเปื้อน ทั้งในน้ำและอากาศอย่างรวดเร็ว และไม่มีสารตกค้างในสิ่งแวดล้อม โอโซน เกิดจากการรวมตัวกันของออกซิเจน 3 อะตอม ช่วยในการควบคุมกระบวนการไอโอนิค และออกซิเดชั่นให้เกิดขึ้นอย่างสม่ำเสมอ และมีประสิทธิภาพมากที่สุด ทำให้โอโซนมีคุณสมบัติในการฆ่าเชื้อ ถอนพิษ ขับออก และฟอกผิว โดยเกิดการกลั่นของ โอโซนที่มีเอกลักษณ์เฉพาะตัว เพื่อเข้ามาช่วยแก้ปัญญาหาการอักเสบของผิวพรรณ รวมทั้งทำให้ผิวหน้าขาวและเปล่งปลั่งสดใสขึ้น สระว่ายน้ำระบบโอนโซนในน้ำสำหรับบำบัดนั้น เป็นเทคโนโลยีใหม่ที่มาแรงทั้งในอเมริกา และยุโรป และถูกนำมาใช้อย่างมาก เนื่องจากคุณสมบัติดีกว่าหลายๆด้าน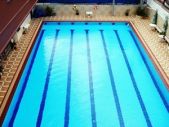 FULL SIZE TENNIS COURT
Sivalai place has 5 full size tennis courts for you to enjoy. All courts are fully equipped and closed in, with well maintained surrounding and seating area's. Tennis is enjoyed by all at Sivalai and is a great way to burn a few calories!
We also rent all the latest, modern equipment you will need to play with and even someone to practice with if you are on your own. For all the budding Federer's out there we have a professional coach at hand for personal tuition and training.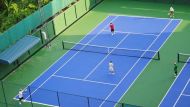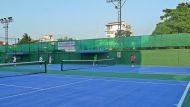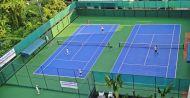 ENJOY INFARED SAUNA - HOT, HOT, HOT!
Burns calories and controls weight  - As you relax in the gentle heat of the infrared sauna, your body is actually hard at work, producing sweat, pumping blood and burning calories. According to a Journal of the American Medical Association report, in a single sauna session you may burn as man y calories as you would rowing or jogging for 30 minutes. So you lose weight - not just water.
BEST BENEFIT & EASIEST WAY OF BURNING YOUR CALORIES!
Clears cellulite
Removes toxins and mineral waste
Improves skin condition
Improves the immune system
Reduces stress and fatigue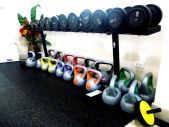 ENJOY OUR GAME ROOM! 
The Games Room features a modern Western Pool and Foosball table. It also has a fully stocked fridge with all the refreshments including soft-drinks and beers. There is also a comfortable seating area and map, local information, tours and excursions board. The Games Room is always kept tidy by our attentive staff to ensure our guests get the full enjoyment from it.

Spend some time with friends or meet new ones over a game or two. A great way to relax, catch up and check the info board all in one location!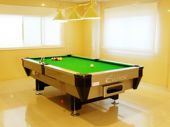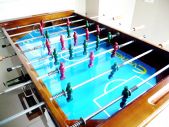 ENJOY SINGING IN THE PRIVATE KARAOKE ROOM!
Sit back and relax in the comfy couches, a modern karaoke screen and system, microphones, selection books and remote for you to program your choices. Then sing away, using the background music and the words (and even a film clip!) on the screen as your prompts. A large range of old favorites and newer numbers are on offer, depending on your singing preferences.
There is also a fully stocked fridge with soft-drinks and beers as well as a variety of snacks. So sit back and sing to your hearts content - without worrying about waking up your neighbors!